By Mark Tungate
Jigsaw puzzles are mysteries waiting to be solved. Great detectives of the Sherlock Holmes variety are often depicted frowning over solo chess games. But actually they should be doing jigsaw puzzles: putting together those awkward shapes so the full picture can emerge. "The final piece of the puzzle," is a mystery movie trope.
Turns out there are plenty of clues in the Heinz Ketchup Puzzle, the unremittingly red jigsaw puzzle that baffled and delighted fans – and won the Design Grand Prix at the Epica Awards. For example, it has 570 pieces (remember those "57 varieties?") and one among them is shaped like the letter H.
But why on earth did Heinz and its Canadian agency, Rethink, decide to make a jigsaw puzzle in the first place? Rethink's executive creative director Mike Dubrick picks up the pieces.
"At the beginning of the pandemic, so much of the messaging from brands felt the same: dependability, reliability, how hard they were working for us and how we could trust and count on them. We felt like there was an opportunity to do something different."
Clearly the pandemic is a serious situation, he underlines, but when you're stuck at home you could use some joy. "The brand has always had that balance of being really high quality – the bottle design is beautiful, for example – and allowing itself to have fun."
There's also a strong nostalgia component, as we all remember growing up with Heinz as kids. "We felt that we could evoke those emotions and that nostalgia, without having to be childish."
SHOW NOT TELL
The agency works for a number of brands in the Kraft-Heinz portfolio, starting a couple of years ago with Canadian favourite Kraft Peanut Butter. "When the opportunity came up to take on the Heinz Tomato Ketchup business, obviously we jumped at it. It's an iconic brand – and because it's an icon there are all these emotions and intrinsic feelings people have towards it that you don't necessarily have to spell out. You just show it to them and they feel it."
The collaboration has resulted in several innovative campaigns, including "Heinz On Film", in which the product was given its own IMDB (Internet Movie Database) page due to its frequent appearances in movies.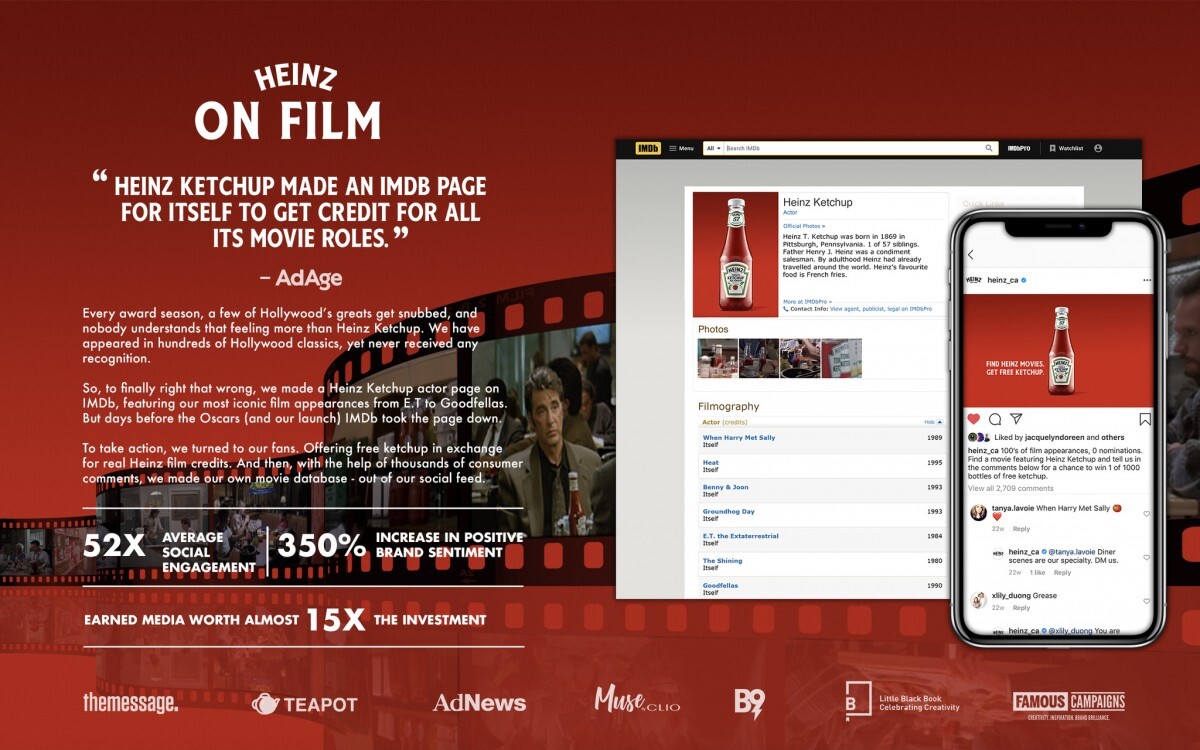 "We work hand-in-hand with the team at Kraft-Heinz and we have the same vision, which is to try and do some of the best work in the world on this brand, put it on the global stage and live up to the iconic status set by the brand itself."
Once it became clear that the "stay at home" situation was going to last – and last – both agency and client felt that it was time to do what they did best: come up with an engaging creative idea that would delight and inspire consumers.
Meanwhile, jigsaw puzzles were trending as people wiled away the long hours of lockdown. "But we didn't just want to make a puzzle. We needed to find a creative way to make it unique and relevant to us. As I said before, the beautiful thing about the brand is that you don't necessarily have to explain things. For example, people know that Heinz Tomato Ketchup is slow."
Picture that lazy tide of red sauce as it takes its precious time sliding to the lip of the bottle. 
"We made our puzzle quintessentially Heinz by trying to make it the slowest puzzle ever – all red." This tied the puzzle back to the brand in an amusing way, while making it so visually striking that it provoked conversations. "When you see it in print or in the media, it's just this vivid, totally red puzzle, which catches you off-guard because it's like no puzzle you've ever seen."
The agency worked with local manufacturers to create the product. "We had a lot of interesting conversations. We customized some of the shapes to look like an H. We set the number size at 570 to hint at the brand's famous 57 varieties. We considered 1869 pieces to honour the company's founding date, but the number seemed high and the all-red was already hard enough. In fact, during the design process we took every opportunity to land little brand cues, even if they weren't obvious."
SEEING RED
Needless to say, the puzzle is in the ketchup's official Pantone colour: Heinz 57 Red. When it was unveiled to the media, it was like waving a red flag in front of a bull. Jimmy Fallon said he wanted one. Puzzle addicts scrambled to take up the challenge. 
"The intent was always to capture maximum exposure," says Mike. "We wanted to create a really engaging consumer piece, but in order for consumers to learn about it, we needed to create a cultural buzz. We worked closely with our PR team and media partners to craft that messaging, because the way you put an idea out into the world is also part of that idea."
There are, of course, jigsaw influencers. "The great thing about the digital world is that there's a group for everything," acknowledges Mike. "Yes, there are people who've dedicated their lives to the joy of doing puzzles. One puzzle influencer we sent it to just raved about it."
The buzz swelled into an online challenge as people posted images and time-lapse videos of themselves attempting the puzzle. Others framed it and put it on their walls. Beyond selected influencer pushes and targeted media buys, the idea took on a life of its own. "The great thing about the campaign was that it captivated people and entertained them at a time when there was a lot of uncertainty. Jimmy Fallon just found it completely organically. So that was exciting to see."
When the puzzle arrived in stores, it sold out almost immediately. Last Christmas a new batch was released – and vanished from shelves again. Copies on eBay have fetched over 150 Canadian dollars. Like Andy Warhol's Heinz Tomato Ketchup box, albeit on a smaller scale, the puzzle has become a collectible piece of pop art.
"Which is only appropriate, because Heinz Tomato Ketchup is a pop culture icon," says Mike. "It's instantly recognizable. We didn't need to put a logo on the puzzle, because people got the message without that. It's the slowest puzzle in the world – and that can only be for one brand."
The views expressed here are those of the writer and do not necessarily reflect those of MARKETING Magazine.
MARKETING Magazine is not responsible for the content of external sites.