In light of this current pandemic crisis, we're throwing it back to a slightly different crisis that hit KFC in 2018. The iconic fried chicken joint experienced a bizarre problem of running out of chicken.
The delivery mishap resulted in hundreds of KFC restaurants in the UK having to temporarily close and the marketing nightmare .KFC responded by taking ownership of the disaster.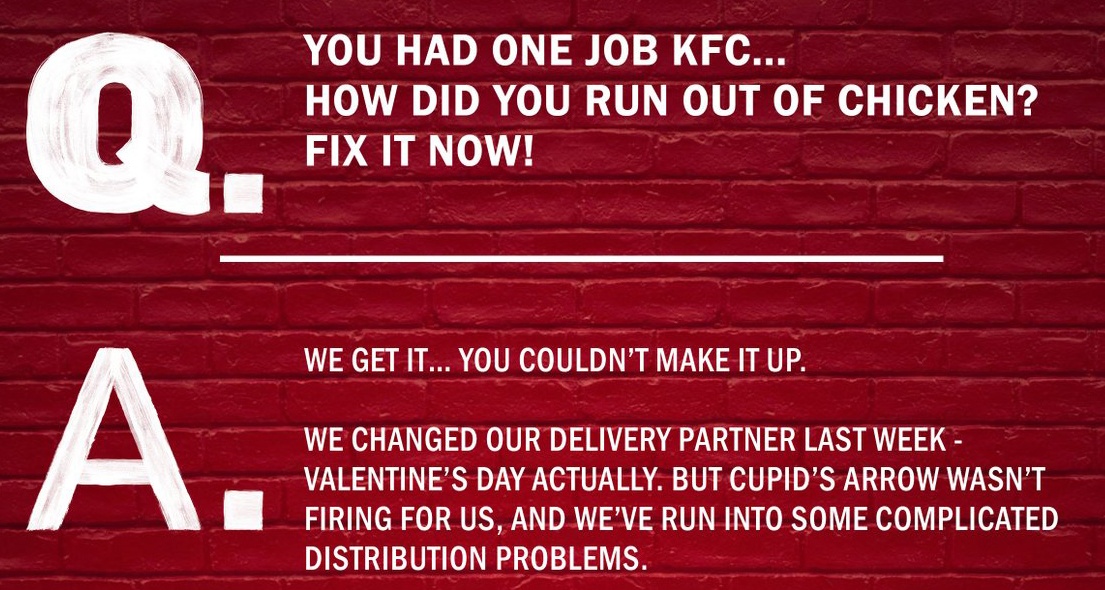 The brand demonstrated that apologising in a humorous and human way can turn bad news into an opportunity to connect with customers. Its decision to use print also paid off, driving significant PR coverage at relatively low cost at a time when the brand was in the news cycle.
MARKETING Magazine is not responsible for the content of external sites.
The APPIES is an annual event that presents a rare opportunity for creative, media, digital and marketing agencies or brands to present their best campaigns to the industry. 
This is the only event where Live Presentations meets Live Judging. 
Similar to TED Talks, The APPIES is the chance for great presenters with outstanding work to show it off to some of the industry's most important industry leaders.
This year's winners will receive Gold, Silver or Bronze trophies for 10 categories, and 7 special Best of Best categories (red trophies) that require no submissions!
Campaign entries must have run between June 2022 to May 2023
For more details visit https://appies.com.my/ or contact Vishnu