Ad spend, as reported by Australia's media agencies, is expected to be down around 30% in April despite a re-emergence by domestic banks on the advertising scene, according to industry analysts who spoke at a webinar by the AANA (Australian Association of National Advertisers).
Jane Ractliffe, managing director, SMI (Standard Media Index) says the financial year to date is down around 7.1% overall, with television sliding by 8%, digital by 4.1% and outdoor 5.2%.
For March, early data sows a fall of about 11%, without digital spend numbers, but SMI expects this to end the month 7% to 8% behind.
Ractliffe says this is actually below some of the monthly falls recorded in this financial year.
And in April, SMI numbers saw a net inflow of money into the Australian market of about $9 million despite the extended Easter public holidays.
"So it's probably really only a couple of trading days," she says. "But we saw a good amount of money comes through and in this month, we're already seeing very strong growth in national newspapers, up 30%.
"There's been a lot of big brands flocked to trusted media at this time.
"The biggest surprise has been the growth in domestic bank ad spend. We're seeing 50% year-on-year new growth, which is extraordinary."
Advertising spend by banks peaked in March, 2018, during the financial services royal commission and then fell off a cliff. The number SMI is reporting for banks for March is already higher than during that royal commission months.
For April, the banks have already spent 95% so far for the month of what they did in April 2019 and have booked more than 50% of spend for May.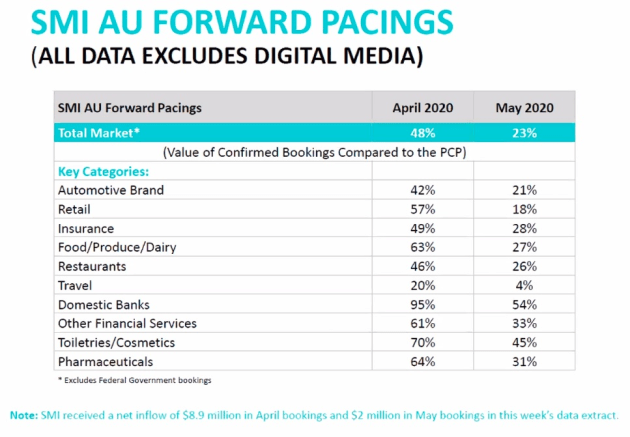 "Talk of a 50 or 60% decline in ad spend," she says.
"Is really not going to eventuate, at least amongst thenational market. It might be happening within small business because that is closed but many national marketers are still operating and serving customers, reaching out to the consumers, and still advertising.
"The level of forward bookings is down, but it's still not the decimating numbers that some people have mentioned.."
For the month of April she sees a 25% to 30% drop in ad spend, based on bookings so far.
"I think we all acknowledge that the market is going to be back," he says. "It's the size of the decline that we are trying to understand.
"And, and based on what we can say so far, and the amount of spend that we would normally expect to receive from the agencies in the next two weeks, I would expect the agency market at least to be back 25% to 30%."
She was speaking at an AANA webinar to analyse the latest SMI media spend data and what it means for marketers during the coronavirus crisis.
John Broome, CEO of the AANA, says he's had a number of discussions in the industry about ad spend.
"Anecdotally, of course, we've been hearing of a much bigger swings in advertising spent," he says.
"Just in my own conversations with a number of holding company CEOs, the general consensus seems to be around about 35%."
source: https://www.adnews.com.au/
MARKETING Magazine is not responsible for the content of external sites.