By Mark Tungate
As pandemic restrictions are lifted, many airlines and tourism groups are revamping their marketing strategy to reflect new behavior, ranging from how consumers are planning their trips and to inspiring mindful travel.
This has brought on a wealth of creativity in the travel sector, with new imaginative campaigns championing sustainability, diversity and inclusion, and new brand experiences, among many other things. We've compiled some of the most unique campaigns and activations from leading travel brands all over the globe!
TBWA\Chiat\Day New York "It Matters Where You Stay"
With its first global campaign, Hilton has chosen to break away from typical hospitality marketing and instead focus on why travelers choose who they travel with. As Mark Weinstein, chief marketing officer at Hilton, puts it, "Travelers don't need to be sold on the power of travel—they need to be sold on why you travel with who you travel with."
Hilton debuted six spots as part of this new push, 2 of which include Paris Hilton (a first for the brand), notably Hilton's biggest marketing push in six years. The humorous series of campaign films each focus on common travel tropes and showcase the struggles that inevitably come with traveling. Each situation further emphasizing their messaging, "it matters where you stay."
The full campaign can be viewed in our Unplug, Rest, and Reset showcase.
VCCP London "nextGen easyJet"
This past March, easyJet released its first new pan-European campaign since the pandemic began. The campaign, created by creative agency of record, VCCP London, was designed to inspire travelers to 'rediscover Europe' and introduce a new brand direction for easyJet, with an increased focus on championing diversity and inclusion in aviation.
In addition, the campaign highlights easyJet's work as Europe's only major airline to offset carbon emissions from its flights at no extra cost to customers.
At the heart of the fully integrated, pan-European brand campaign is a 60' film, showcasing easyJet's revamped visual brand identity. The fantastical film opens with easyJet cabin crew leading a 'flock' of passengers down a runway. With their help, the passengers prepare for take-off, before literally physically taking flight to their dream destinations.
Iris' Recyclex Campaign for Samsonite
In celebration of Earth Month, well-respected global luggage brand Samsonite partnered with Iris Worldwide for a campaign to promote their eco-friendly collection, Maxsum Eco.
Highlighting Samsonite's proprietary Recyclex® material – a technology that uses post-consumer or post-industrial recycled materials that are specially crafted to be durable, flexible and more environmentally sustainable – the campaign uses photography to bring to life a series of sustainably-minded character stories in various cities.
From an individual who avoids cars in order to stay fit to a coffee lover who seeks out local-sourced cuisine, all share one common element: Samsonite is their luggage brand of choice for eco-friendly traveling.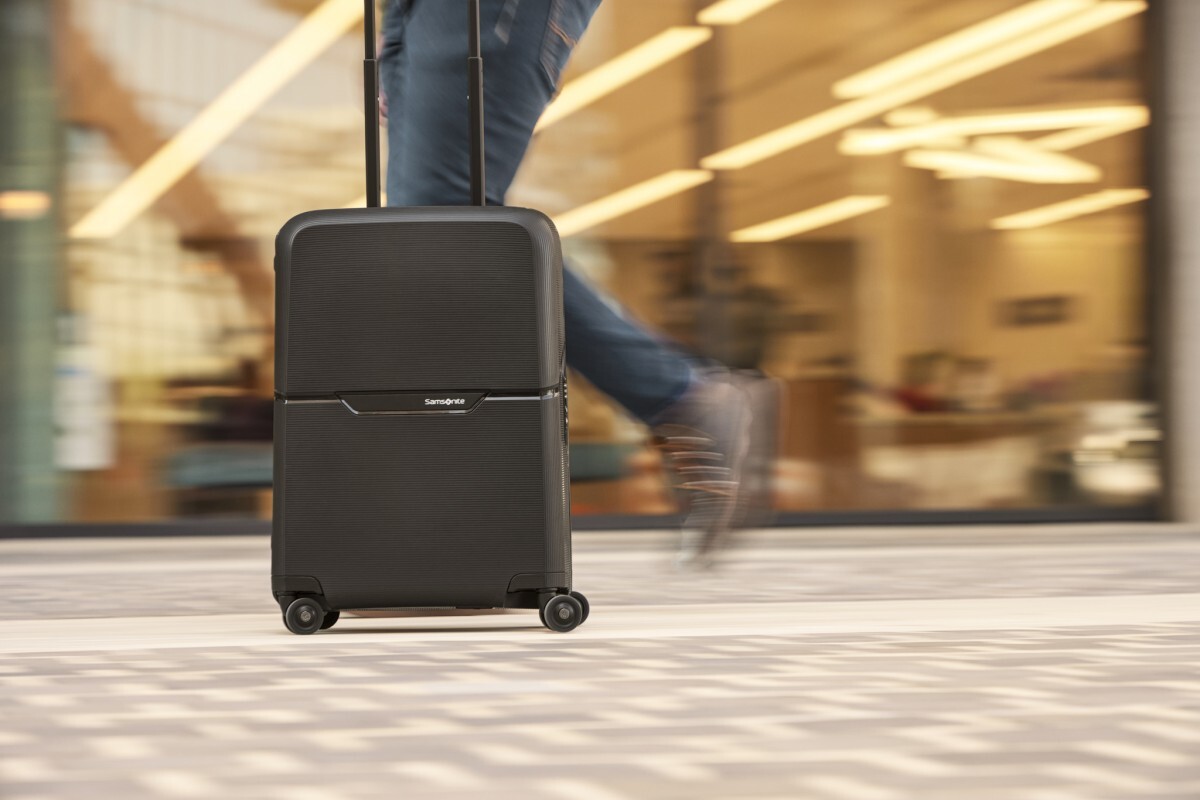 Yell Advertising x Love Andaman
Before the pandemic, travel tour firm Love Andaman was humming with activity. But due to a higher demand than anticipated, the team was having a hard time promptly responding to inqueries. They even hired alternating teams and implemented a chatbot. However, it was unable to meet the insane demand during the high season. Once COVID hit, travel was obviously heavily affected, causing a completely seperate issue for Love Andaman.
During the slow travel season, nature and the sea are able to naturally thrive. Yell Advertising leaned in on this concept in their social campaign for Love Andaman, offering travelers vacationing in the off season 'the feeling of owning an island for the price of purchasing a tour.'
The campaign bolstered special promotions that allowed customers to buy a tour in advance and the option to alter your travel date. Utilizing Shopee, popular Singapore-based e-commerce shopping platform, allowed for in-app package purchases to streamline the experience.
This campaign helped solve two problems: creating a selling point from the issue of a slow travel season and resolving sales problems by expanding their customer touchpoint to Shopee, no longer having the issue of delayed inqueries.
Special Group "No Kids On the Ocean"
A cheeky new global campaign from Special Group US for Virgin Voyages reminds parents that they deserve a kid-free vacation without guilt, especially after the pandemic. Cruises with Virgin Voyages are for those 18-years-old or older, no kids allowed. And the kids aren't pleased!
'No Kids On the Ocean' is Special US's first creative execution for the cruise line since recently acquiring the account. The work is a reminder that parents do a lot for their children, and sometimes the best way to celebrate them is to take a kid-free break. That way, parents can return to their families refreshed and ready to be their best selves.
Energy BBDO "Chicago Not in Chicago"
The 'Chicago Not in Chicago' campaign from Energy BBDO features advertisements in newspapers and magazines and a video series illustrating Chicago's influence in other major global cities – interestingly, the innovative campaign promoting Chicago actually takes place in NYC!
The first episode featured a guided tour on a double decker bus in Manhattan to showcase the influence Chicago had across many landmarks in New York City.
The campaign's premise is that every city has a Chicago story, from buildings to music and so much more! Via the campaign website, visitors can discover different interesting facts about Chicago, see how it influenced other cities of the world or even book a trip to visit. What an intriguing way to learn something new about a city!
72andSunny "Good Leads the Way"
United Airlines' "Good Leads the Way" campaign champions the airline's leadership in areas like customer service, diversity and sustainability. Investing to fight climate change, training more women and people of color to become pilots, and getting rid of change fees are just some of actions United has taken.
This campaign marks the first fully integrated, national advertising campaign from United in nearly a decade and serves as a commitment to how the airline intends to show up in the future. United Airlines is committing to reduce their greenhouse gas emissions by 100% by 2050, without relying on traditional carbon offsets.
The full campaign can be viewed here.
Huge "Four Seasons – Digital Transformation"
Huge partnered with Four Seasons Hotels and Resorts to completely re-envision the brand's experience. To do so, Huge supported Four Seasons through a digital transformation to create a best-in-class ecosystem, including an enhanced website, advanced booking tool, social, mobile and CRM that engaged travelers and positioned Four Seasons as the leader in the industry.
Tune into our Unplug, Rest and Reset showcase for more impressive travel work!
MARKETING Magazine is not responsible for the content of external sites.